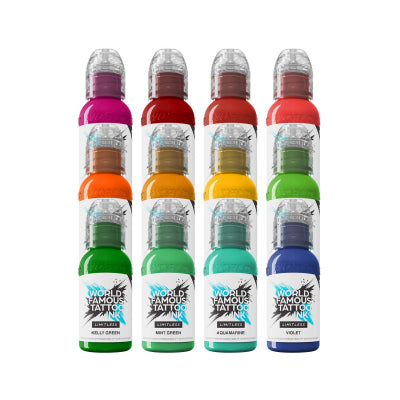 Dragon Set
---
World Famous Limitless Dragon Set – 12 x 30ml
The Dragon Set consists of 12 vibrant colors perfect for bright and colorful pieces.
Experience the brilliance of super high pigment content and flawless flow rate; how the ink effortlessly penetrates the skin with minimal damage, ensuring a swift healing process.
The set includes: 
Coral
Fire Red
Hot Red
Fuchsia Pink
Bright Orange
Dark Gold
Gold
Kelly Green
Lime Green
Mint Green
Aquamarine
Violet
These inks are:
Cruelty free
Vegan friendly (contains no animal products)
Better for immunity and health
Minimalizing chance of rejection and damage
Safer for skin, more reliable
Longer lasting ink and vibrancy
REACH Compliant
Made in USA
With an extensive range of colors available, your artistic expression knows no bounds.
Embrace limitless possibilities with the World Famous Limitless Dragon Set.
Want to know more about the REACH Regulations?
Click here for additional info and the World Famous Limitless data sheets